Ajamou Butler and Heal the Hood MKE offer a variety of workshops that cater to everything from staff professional development to creative writing workshops for school-aged children. Each workshop can be customized to fit the needs of the contracting site. Listed below are a few examples of the most contracted workshops conducted by Ajamou Butler.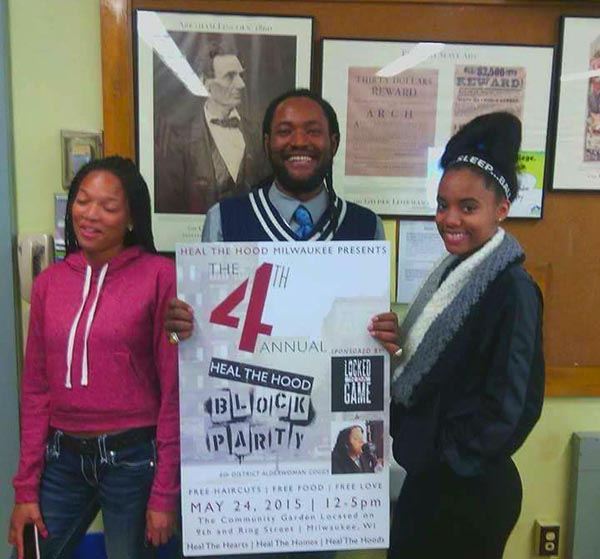 Leadership 101
This series focuses on not letting your past hinder your
future, living for something bigger than yourself, and
learning to lead. Learn the concepts of developing
character, building lasting relationships and displaying
integrity as the foundation for becoming a great leader.
Servant Leadership & Overcoming Setbacks
The psychology of Poverty
Journey through a step-by-step breakdown of the effects poverty has on the mind. Take an in-depth look at the definition of poverty and how it impacts students from lower socioeconomic backgrounds.  Discover the causes, discuss solutions, and conclude with a Q&A.
 We are not poets, we are messengers!
Students are taught stage presence, literary terms,
character building, and leadership through repetition and
application using spoken word. This workshop is
interactive and rooted in boosting confidence in reading,
writing, and public speaking.
The Psychology of Poverty
On August 22nd 2016, Ajamou Butler spoke to a group of over 100 staff members from City year MKE to present the workshop: The Psychology of Poverty. Abe Fleischman was one of those many City Year MKE staff members and here are his thoughts on the workshop……."Hey there Mr. Butler, my name is Abe. You spoke to me and the rest of my City Year team earlier today and I'd just like to once again thank you for your truly inspiring words. I actually thought that the most impactful thing that you said to us was during the break when you chose our inspirational word to be "heartbeat". I'll be working in Hopkins Lloyd Community School, placed in the middle of 53206. I'll be sure to take your messages to heart when working with these students and remember to pass along the important values that you have learned through your time living in the Milwaukee area. I am expecting a year of many unknowns, and am hoping that I can use you as a powerful resource to turn to in the future. Thanks again for coming in today. It was extremely moving."