Since 2012, Heal the Hood MKE has been a campaign rooted in bringing the Milwaukee community together through various forms of fellowship. We strive to promote leadership, anti-violence, and unity! Whether through our annual block party outreach or our in school curriculum, Heal the Hood MKE has grown to be a staple in the inner city.
Each year, our block party campaign grows exponentially. In the summer of 2017 between May and August, we were able to draw in more than 3000 people to our 4 separate block parties. That type of impact can only be made with support from people who believe in healing the city of Milwaukee.
In the summer of 2017, Ajamou Butler was contracted by Arts@Large to teach a 5-week workshop series at Gaenslen Middle School. Here is some feedback from an Arts@Large staff member, Jacque Troy…….."I love that I had the chance to watch at least a bit of your class on Thursday.  Hopefully, now that I'm clearer about the schedule adjustment I'll find time to see more later.  Your calm, compassionate command of the room is mesmerizing.
The "throw down Thursday" idea was truly inspiring.  Even though I "barged in" while class was in session, both groups of students were so committed to their work that they barely noticed me.  That's a testament to all the systems you've already put into place.  I saw even in that short time, the pride you've created in their hard work and your wonderful use of your interns.  I was delighted that I saw you use my tactic of having them "return to your original seats" before creating closure for the day.  I'm glad that proved a helpful strategy for you.  I was impressed to see them raising their hands to answer questions, despite their enthusiasm to contribute.  This is incredible evidence of the self-control and the initiative that you're nurturing.  I also think it's great that with the smaller seventh-grade class size, you've combined the two and are going to available for math help too.  You're truly a renaissance man with your abilities in literature and math!!"
If you would like to contribute to Heal the Hood MKE, you can do so by purchasing a limited edition Healwaukee State of Mind T-Shirt or simply click the donate link below. All contributions go towards helping to bring healing to the communities throughout Milwaukee.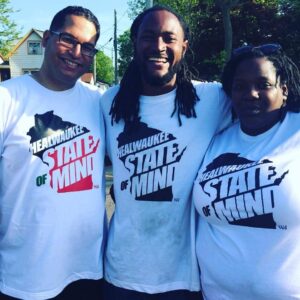 Represent the change you want to see by getting your very own HEALwaukee State of Mind shirt! ONLY 25.00